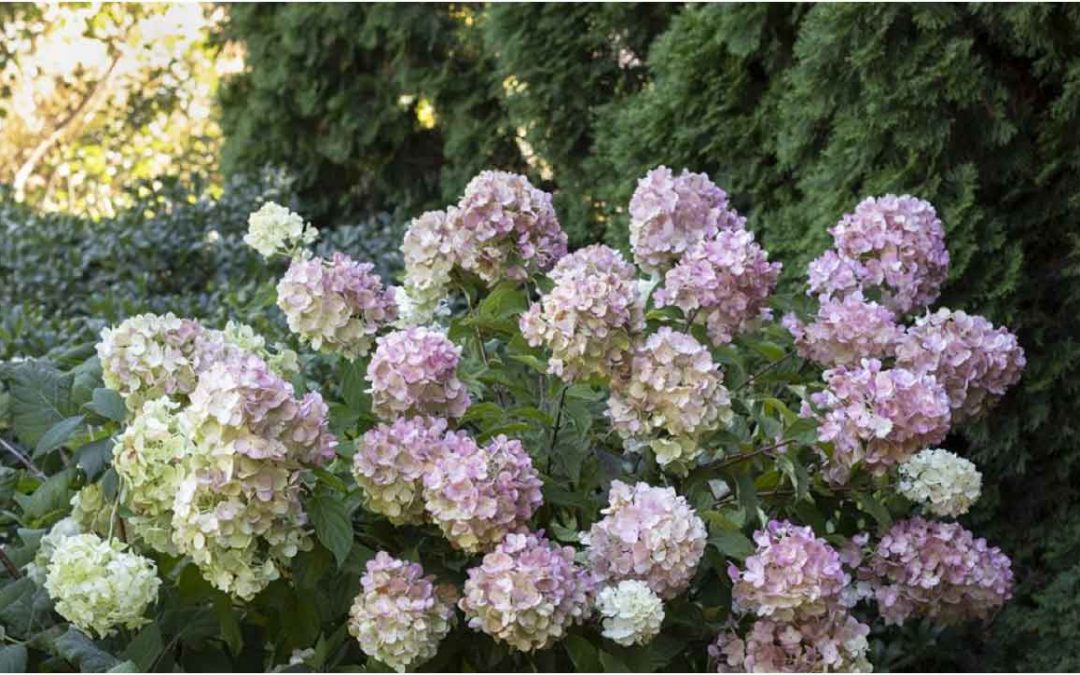 As the garden winds down in the later part of summer, panicle hydrangeas (Hydrangea paniculata) take center stage offering up big blooms that put on a show from now into fall.
While we all love their more familiar mop-head cousins (Hydrangea macrophylla), panicle hydrangeas have a few advantages. They bloom in full sun or morning sun which means more of us can enjoy them. And since they bloom on new growth each summer, there is no chance for flower buds to be damaged by winter cold, so you're pretty much assured a blooming great show. Finally, butterflies and bees flip for the flowers which provide an important late season food source.
Panicle hydrangeas typically change color from white to varying shades of pink and, unlike mop-head types; this is not as a result of soil chemistry. Instead color morphing is triggered by a change in air temperature. (Depth of color is more intense in colder northern zones than in warmer southern ones.)
If you haven't planted a few panicle hydrangeas, either in garden beds or in containers, you're missing out on one of the true treats in the late-summer to early-fall garden.
Easy Growing Tips for Success
Panicle hydrangeas need lots of sunlight to form those wonderful flower buds. Planted in full sun in cooler northern zones; here in the south they perform best planted where they can get morning sun and some afternoon shade.
Like all hydrangeas, panicle types love to be kept evenly moist. If you don't have regular summer rains, water consistently to keep them happy, and to get the most intense color change from white to pink or red in the fall.
Panicle hydrangeas bloom on new wood (the current season's growth) each year, so in late winter or early spring just as the new growth appears, prune for better branching and overall shape and to encourage new growth. Larger varieties can be kept compact by pruning; this can produce larger, if fewer, flowers.
Here are 7 panicle hydrangeas that we recommend for Middle Tennessee:
Mid-Sized for Containers, Small Gardens, Landscapes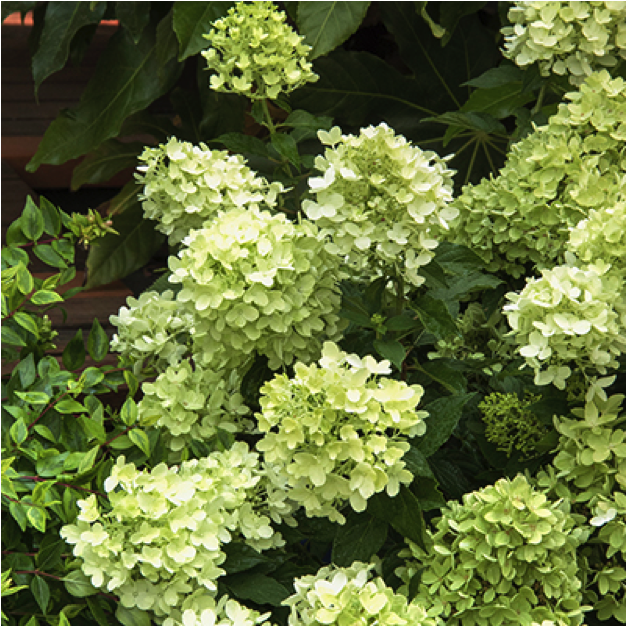 Candy Apple™ Hydrangea
Zone: 4 – 8
Compact with very strong stems that hold up show-stopping blooms.
Makes an ideal focal plant for smaller gardens and pots.
4′ tall and wide.
Partial shade to full sun.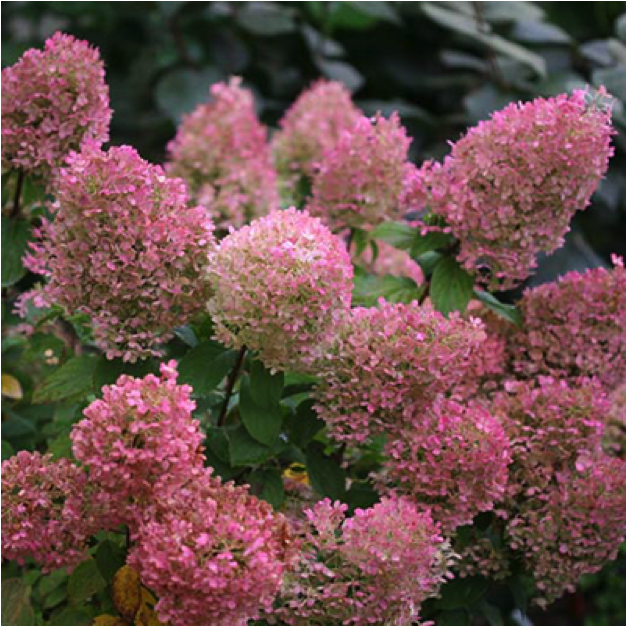 Bobo® Hardy Hydrangea
Zone: 3 – 8
Enormous creamy-white flowers in summer, providing a nonstop show until frost.
Makes a charming short hedge.
Up to 3′ tall and wide.
Partial to full sun.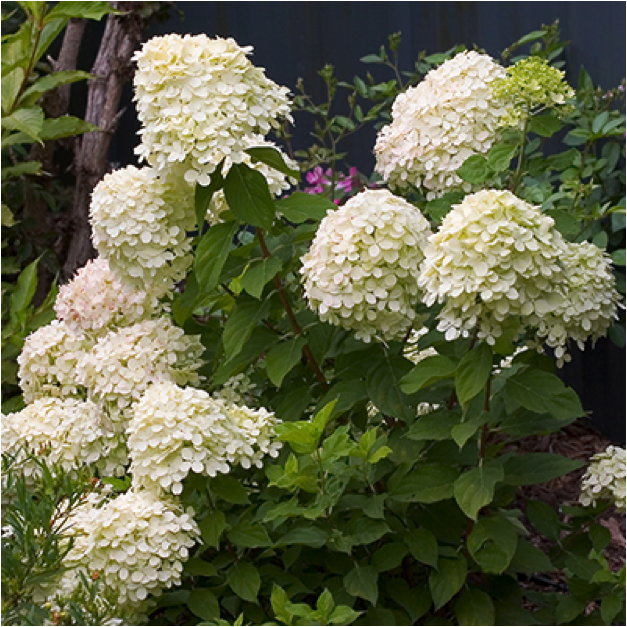 Little Lime® Hardy Hydrangea
Zone: 3 – 9
Dwarf produces soft green flowers that turn pink and burgundy in fall. Use in mixed border or foundation plantings.
Up to 5′ tall and wide.
Filtered to full sun.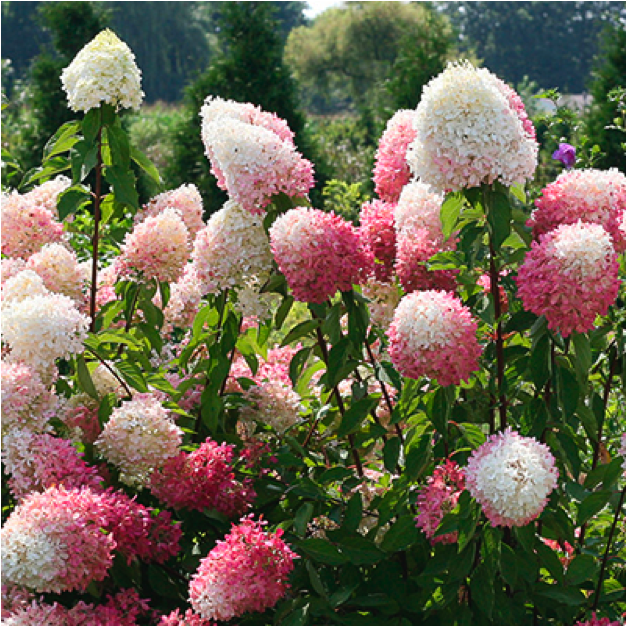 Zinfin Doll® Panicle Hydrangea
Zone: 3 – 8
Blooms transform from white to rich red-pink. Reliable, prolific bloomer for a standout specimen or in an island bed.
Up to 8′ tall and wide. 
Partial to full sun.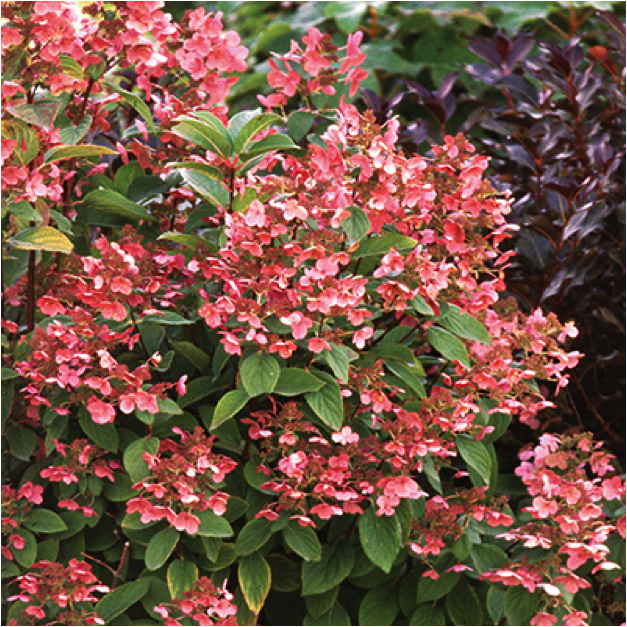 Quick Fire® Hardy Hydrangea
Zone: 3 – 9
Very early bloomer opens white becoming dark rosy-pink in fall with great fall foliage color, too. Showy at the back of a border.
Up to 8′ tall and wide. 
Filtered to full sun.
Drying & Arranging

Bunches of panicle hydrangeas can be cut right now when the flowers are a soft green for fresh, crisp summer arrangements, but they can also be harvested a bit later when they've begun to turn soft pink, typically in September or October depending on your zone and the weather.
Here's some great information on how to dry hydrangeas so that they retain their color. We looked for inspiring ideas and liked the ones we found here.
Our garden centers stock these (and other varieties) of panicle hydrangeas.
Call or stop by to view our available inventory, and to receive personalized planting and after-care instructions.
Although panicle hydrangeas are certainly a low-maintenance addition to any sunny garden, when questions about care, pruning, or watering arise be sure to consult your local landscape professionals at Southbranch Nursery!